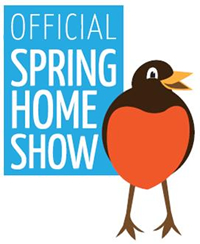 The 2014 Official Spring Home Show
Show Dates and Hours:
| | |
| --- | --- |
| Friday, February 21 | 4 pm to 9 pm |
| Saturday, February 22 | 10 am to 8 pm |
| Sunday, February 23 | 11 am to 4 pm |
The Home Builders Association of Greater Peoria has announced its Official Spring Home Show will be held February 21-23, 2014 at the Peoria Civic Center.
More than 250 companies occupying 450 booth spaces make the show the largest of its kind in Central Illinois. It features everything for the home ... inside and out ... all under one roof! Each year, approximately 20,000 local consumers use the show to make their buying decisions for new home, home remodeling and home improvement purchases!
Exhibitors display a wide range of interior, exterior, home building and home remodeling products and services. This is the largest gathering of area home builders and remodeling contractors you'll find in the area
BOOTH SALES ARE NOW OPEN! RESERVE YOUR EXHIBIT SPACE FOR 2014!
View the floor plan on line and choose your booth location. Booths that were reserved as 20x20 or larger spaces in the 2013 show are currently "on hold" for those exhibitors to have first right of refusal on the space for 2014. Booths occupied by HBAGP Builder Members in the 2013 show are also "on hold" for their first right to reserve. All booths on hold under these circumstances are shaded in red on the floor plan, and are not available for general purchase at this time. Should an exhibitor change locations or not occupy the booth in 2014, the booths will be released at a later date.
If you occupied one of the booths "on hold" in the 2013 show, please contact HBAGP for details on how to finalize the location for 2014
IMPORTANT NOTE FOR EXHIBITORS:
There are two ways to reserve your booth ... you can choose your location and reserve on-line, or you can mail a check and contract. The on-line process is the least expensive for exhibitors, and gives you immediate information about which booths are available.
For the 3rd consecutive year, we have partnered with Booth Boss to bring exhibitors a live, interactive floor plan to make booth selections easier! This is a secured, on-line sales site. Choose your preferred booth, and place it in your shopping cart. When you choose a booth, it will be color coded with the exact drive-in access time for booth set up, so keep that in mind when you make your selection. In the check out process, you'll have the opportunity to select 2nd & 3rd choice locations .... and pay immediately with credit card processing.
After the check out process is complete, HBAGP is notified of your preferred booth, and it is placed on hold for final approval by show management. There could be a need to adjust your booth selection to one of your alternate choices, and the final booth assignment is made by show management after reviewing your choices. If you receive booth placement in a 2nd or 3rd choice option, you will be notified and your order will be edited.
NOTE: You cannot reserve a booth through the on-line system without an accompanying credit card payment. You can also enter information about your checking account to submit payment via electronic check. Reserving your booth on-line offers you the lowest cost.
You can choose to pay the full amount with your booth request, or split the booth payment into a 50% non-refundable deposit now, and the remaining 50% due on January 17, 2014. Please note that if you select the two payment option, the Booth Boss system will automatically charge your credit card on the final payment date shown on the check out screen.
Standard booth price before any HBA of Greater Peoria (HBAGP) Member or Early Bird discounts are applied is $805 per 10x10.
Booths reserved on-line are eligible to receive the following discount:
Current Members in good standing of HBAGP receive a 10% discount per 10x10 *Use discount code "MEMBER10" during on-line checkout to pay $724.50 per 10x10
Non-Members of HBAGP pay the standard $805 booth fee *Or join HBAGP in the check out section when you reserve and receive the member rate!
IMPORTANT PAYMENT NOTES:
Non-members that wish to join HBAGP and receive the discounted member booth price can pay for membership in the check out process, and the code will be validated after the sale. Use of the member code will be applied at purchase, but must be approved by HBAGP after the sale is complete to be valid. It will only be approved for members in good standing of the Home Builders Association of Greater Peoria. Membership must remain valid through the conclusion of the 2014 show. Non-members using the code in error will receive notification from HBAGP that the code is not valid for their purchase and the sale price will be adjusted.
Cost for electrical power service for exhibitors is supplemented by HBAGP, and is available for a one-time reduced cost of $35 per exhibitor, in addition to booth fees. Power service can be ordered on line when you purchase your booth. If you don't need electrical service in your booth, the power charge is not required. All power requests must be made by February 1, 2014. If you wait to reserve your electrical service on-site with the Peoria Civic Center during the show, the cost is $80 and is payable to PCC.
Reserve early for the best booth selection and largest discounts!
CLICK HERE to visit the floor plan and make your booth choices now!
CLICK HERE to download the hard copy of the contract to mail with your deposit check if you cannot use the on-line system.
Visit the show's web site at
OfficialHomeShow.com
for complete show details!
Learn more about the Official Spring Home Show, and have a chance to win free show tickets by becoming a fan of our Facebook page!